This past weekend was the celebration of Holi, the festival of colors. While the Hindu mythological origin of the celebration is debatable, the fact that it is a celebration of the end of winter and the coming of spring is agreed upon. Some say that Holi is the festival marking Lord Krishna's love for Radha and the celebration of the season of love. In any case the tossing of colors and merriment can certainly be flirtatious; many pop culture depictions of Holi are in pursuit of loved ones.
Some YouTube Bollywood to get you going:
Holi is a day where you can be ambushed by people throwing colored powders, using their squirt guns, or water balloons at any moment. However, South India doesn't get as into the scene as the North. While I would have been happy with a house-celebration, in Bangalore, sometimes its better to hit up a 5-star event. I went with a group to the LaLiT Ashok hotel, which had unlimited everything (food, color, etc.) from 11-5 for a 20 dollar cover (way cheaper than New Years events). The event turned out to be quite possibly my favorite party experience in India, to date.
First the outfit: I checked out commercial street and got a kurti, dupatta, and leggings for <$7. Note how white my kurti is.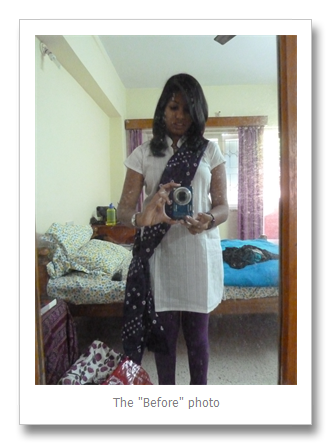 Now the party: The hotel was happening. They had trays of food hanging in baskets from trees (sweet and salty snacks), food vendors whipping up pav bhaji, fresh deep fried sweets, delicious potatoes and pepper pakodas…DELICIOUS. There were also trays of powdered colors sitting out, getting scooped up quickly –tossed, smeared, and patted onto friends and strangers alike.
My favorite part was the dance floor though. The DJ was playing old Bollywood songs mixed with new beats, the dance floor was big, and there were sprinklers and a giant fire hose spraying down people! We called it the "Rain Dance". Wet white shirts are not always ideal, so I skillfully moved my purple dupatta over

.
After a day of dancing, eating, and coloring this is what we looked like:
After a dozen showers, I am still a little splotchy colored…totally worth it